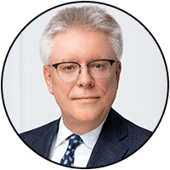 BRUCE REYNOLDS
Partner | Singleton Urquhart Reynolds Vogel LLP

Bruce Reynolds has earned a stellar reputation in the construction industry for settling disputes and drafting and negotiating contracts. Who's Who Legal has recognized him as "one of the foremost construction practitioners in the world," while his clients have praised him for his legal skills, integrity and clarity of insight.
Bruce is a partner in Singleton Urquhart Reynolds Vogel LLP's construction and infrastructure practice group and co-chair of the firm's international construction projects group. He specializes in the resolution of construction and insurance claims, liens, surety bond claims, product liability issues, and architects' and engineers' errors and omissions issues. In addition, he advises clients on construction projects in Canada, the United States and overseas.
Bruce, together with his colleague Sharon Vogel, played an important role in helping the Ontario government modernize the province's construction law, which saw the first round of amendments recently come into effect. The pair reviewed the previous Construction Lien Act for the Ministry of the Attorney General, a process that involved consulting with more than 60 provincial stakeholders, and submitted a report with 101 recommendations – 98 of which were eventually included in the new legislation, the Construction Act. Among the changes to the legislation are the creation of a prompt payment framework and the introduction of a mandatory dispute resolution system.
Bruce has been certified as a specialist in construction law by the Law Society of Upper Canada. He is a Fellow of both the Canadian and American Colleges of Construction Lawyers, vice-president of the International Academy of Construction Lawyers, and past co-chair of the international construction projects committee of the International Bar Association.
He was recognized as Global Construction Lawyer of the Year by Who's Who Legal. He has been selected by peers for inclusion in numerous editions of The Best Lawyers in Canada. He is listed in Chambers Global (Band1) and Martindale-Hubbell (AV), and he is also recognized in the Lexpert/American Lawyer Guide to the Leading 500 Lawyers in Canada (construction law) and the Canadian Legal Lexpert Directory.